BE READY FOR FUTURE WAYS OF PAYMENT!
Choosing the Mecsel solution makes you ready for the future. Payment platform connects to any unattended payment terminal. End-to-end system from consumer to point of sales. Be future proof with easy remote updates.
LET YOUR CUSTOMER PAY WITH MOBILE PHONE!
Mobile phone is the most wanted and
available payment media.
The consumer loves to buy with SMS and Smart Phone Apps!
READ MORE
EARN MORE – CONNECT VENDING MACHINES ONLINE!
Are you taking all potential out of your machines? Connecting online gives intelligense to monitor real time information of sales, consumers and products.
Mecsel Oy
Business id: 0838962-0, Laitilankuja 5, FI-00420 Helsinki, FINLAND
Tel office +358 40 3527526, mail(at)mecsel.com
Erik Wiljanen joins Mecsel Oy
Erik Wiljanen, former managing director and owner of Vendor Group Oy, becomes shareholder and takes the position as chairman of the board in Mecsel Oy.
"I see a great potential in the mobile payment systems and remote monitoring of vending machines to improve the convenience for consumers and increase profits for the operators. Mecsel has the technology and knowhow to become a major player in this field also outside Finland", Erik Wiljanen says.
"Mecsel has for a long time kept a constant position as the number one provider of payment systems in Finland. With Erik Wiljanen's experience of building service provider concepts with an international angle, I believe Mecsel can get in to a new, rapid growth phase", Jyrki Virtanen, managing director of Mecsel Oy comments.
More information: Mecsel Oy, Jyrki Virtanen, managing director. Tel. +358 400447398, e-mail: jyrki.virtanen@mecsel.fi
Mecsel Oy and Riskpointer Oy made a contract
Mecsel Oy and Riskpointer Oy have signed a global cooperation agreement concerning smart phone payments taking place in a self-service environment.
Mecsel Oy is Finland's leading supplier in all environments in which payments take place as a self-service, by any reasonable means, such as coins, banknotes, cards and mobile phones. The cooperation with Riskpointer Oy will allow the use of smartphone apps in e.g., vending machines, car parks, ticketing applications and service stations. Riskpointer Oy's technical solution will take advantage of Mecsel Oy's best positioning data and flexible customized arrangements. Great importance is placed in the user friendliness, affordability and security solutions of the apps.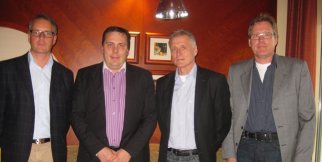 Pictured from left to right Lassi Koskinen, Pekka Honkonen, Jyrki Virtanen, Seppo Sarrivaara
Both Mecsel Oy's representatives Jyrki Virtanen and Seppo Sarrivaara, as well as Riskpointer Oy's representatives Pekka Honkonen and Lassi Koskinen are satisfied with the conclusion of the agreement of both parties on 20.9.2013. It is generally understood that the agreement will significantly promote self-service operations in Finland and Scandinavia, already in the near future.
RiskPointer technology enables payments to be made by mobile phone, safe and cost-effectively. The identification and authentication of the RiskPointer payer has been made very easy on behalf of the user, and, thus, a very straightforward approval of transactions can be made. The technology functions without a hardware base or SIM card encryption technology, and is, thus, highly scalable to a large number of devices without the need for any device-specific modifications. Payment is highly cost-effective, combined with effective risk management, which is based on the real-time measurements of several gauges. A simple pin-code is sufficient to confirm transactions. The user can choose their pin-code via the program start-up.