MobilePay is a welcome addition to the range of payment options
Mecsel Oy's long-term plan has been to equip self-service vending machines with new and practical payment methods. Coins and banknotes have so far held their own alongside new methods, however, competition between means of payments is becoming ever tighter and there is a clear trend away from the use of cash.
Originally launched in Denmark, the MobilePay payment method has arrived in Finland and is also quickly increasing its number of users.
Mecsel Oy has applied the MobilePay payment method to self-service vending machines. The product has now been certified and is part of the Mecsel product range.
Consumers who have downloaded the MobilePay application and taken it into use can also start using it with self-service devices, in so far as there is a MobilePay sticker on display.
Easy merchant deployment of MobilePay
The good news for vending service providers is that the MobilePay function can be introduced easily in the familiar Mecsel way. No changes are required in such vending machines that already use the so-called "Mecsel payment system". In practice, the service provider only has to add the MobilePay QR code sticker to their vending machine- and that's it!
Typical payment use cases
Mecsel is able to offer the most common payment methods for all self-service vending devices on the market, such as sales vending machines, parking, car wash, car refuelling, and photocopier machines. The list goes on.
The most popular payment methods offered by Mecsel are currently, alongside cash, mepay SMS, mePay application, business card solutions, debit and credit cards, and contactless payments, including Apple Pay Payments.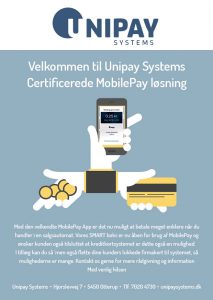 Denmark got there first
The first Mecsel MobilePay installations have been introduced in the MobilePay motherland of Denmark, by our representative, Unipaysystems ApS.
Installations in Finland will start over the coming days.
MobilePay is also a welcome addition to the consumer's freedom of choice to also use payment methods that they have already taken kindly to.
For a service provider, MobilePay is a very affordable way to get products delivered to consumers.
Payment habits are changing
The concept of payments is becoming a self-service event. Payments to a vending machine or at a service point will become very similar events in the future. The flexible payment methods offered by Mecsel Oy also allow independent payments in stores. Kiosks, cafes, restaurants, market stalls, sports facilities are typical service points that will benefit from new terminal-free payment methods.