The long term cooperation between Mecsel Oy and one of the leading vending machine providers in Finland, Selecta Oy, will continue to deepen. Selecta's kiosk vending machines are a familiar sight, for example, on metro and railway platforms. Selecta is one of the leading suppliers of Office Coffee systems.
Mecsel has long provided coin payment devices to Selecta. The cooperation that has now b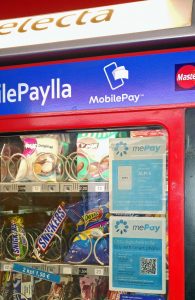 egun will provide consumers with the possibility to pay, in addition to cash, with the mePay SMS payment and mePay smartphone application by mobile phone. SMS is a familiar and secure payment method approved by the consumer. The smartphone application is an ever cheaper way to pay by mobile phone. An ever-expanding range of payment methods have been built into the app.
Deliveries and installations took place at a fast pace at the turn of the year. The feedback from consumers has been positive and trade has begun immediately at a high speed. Mecsel Oy's product portfolio and automated management tools allow Selecta to provide consumers with the most trusted mobile payment functions.
Selecta is a pioneer in the automotive field in Finland. Many innovations in the vending field have been introduced for the first time through Selecta. Selecta's dynamic, renewing and high-quality approach makes it a very good partner. We believe that this expansion to our co-operation will merely be the start of a long journey together.